2022-06-01

How fast are Linux pipes anyway?
The challenge, and a slow first version #
% ./write | ./read
3.7GiB/s, 256KiB buffer, 40960 iterations (10GiB piped)
We're writing the same 256KiB buffer filled with 'X's 40960 times, and measuring the throughput. What's worrying is that we're 10 times slower than fizzbuzz! And we're not doing any work, just writing bytes to the pipe.
It turns out that we can't get much faster than this by using write and read.
The trouble with write #
What are pipes made of? #
The data structure holding a pipe can be found in include/linux/pipe_fs_i.h, and the operations on it in fs/pipe.c.
A Linux pipe is a ring buffer holding references to pages where the data is written to and read from: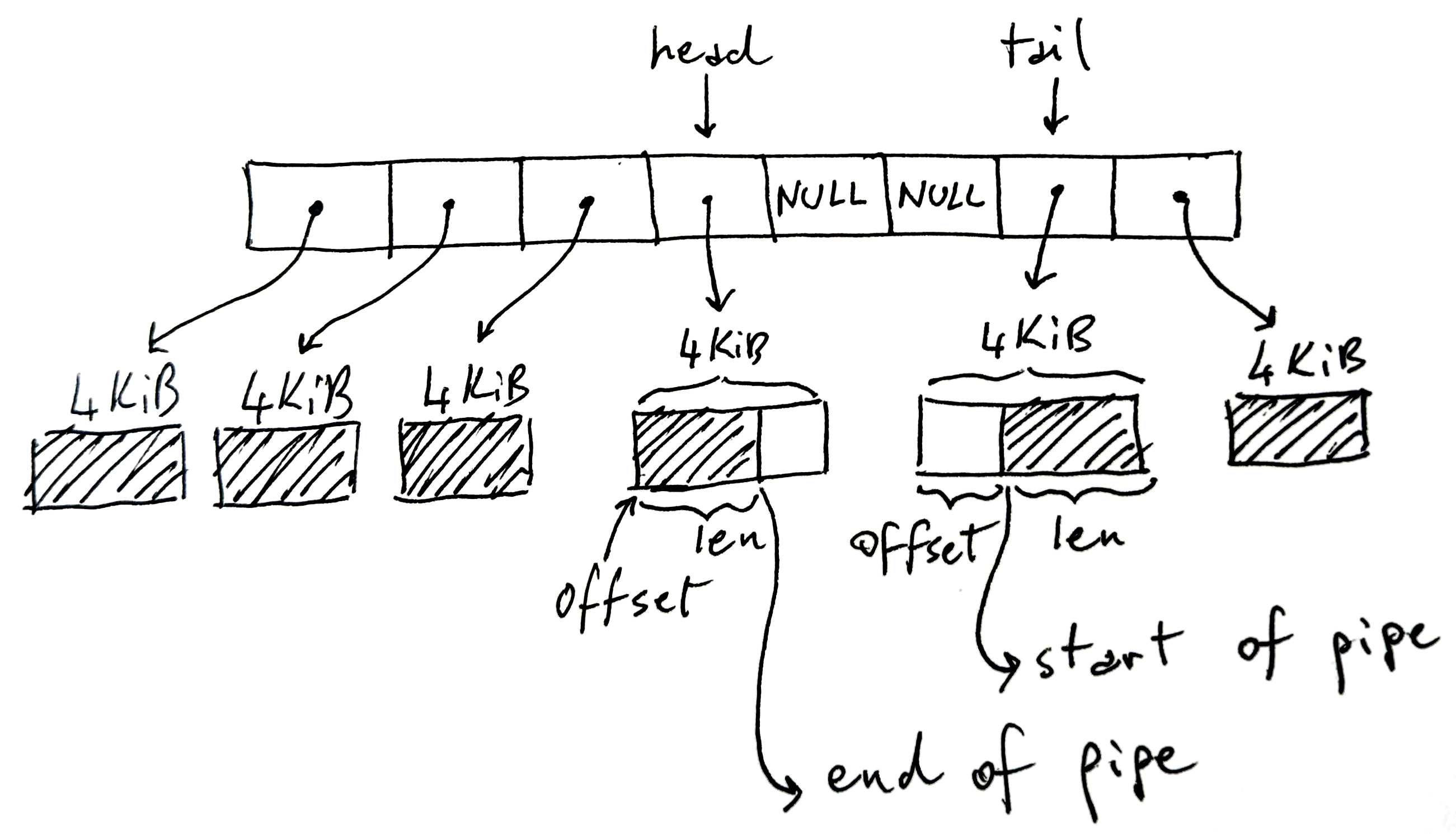 In the image above the ring buffer has 8 slots, but we might have more or less, the default being 16. Each page is 4KiB on x86-64, but might be of different sizes on other architectures. In total, this pipe can hold at most 32KiB of data. This is a key point: every pipe has an upper bound on the total amount of data it can hold before it's full.
The shaded part of the diagram represents the current pipe data, the non-shaded part the empty space in the pipe.
Somewhat counterintuitively, head stores the write-end of the pipe. That is, writers will write into the buffer pointed at by head, and increase head accordingly if they need to move onto the next buffer. Within the write buffer, len stores how much we've written in it.
Conversely, tail stores the read-end of the pipe: readers will start consuming the pipe from there. offset indicates where to start reading from.
Note that tail can appear after head, like in the picture, since we're working with a circular/ring buffer. Also note that some slots might be unused when we haven't filled the pipe completely — the NULL cells in the middle. If the pipe is full (no NULLs and no free space in the pages), write will block. If the pipe is empty (all NULLs), read will block.
Here's an abridged version of the C data structures in pipe_fs_i.h:
We're omitting many fields here, and we're not explainining what struct page contains yet, but this is the key data structure to understanding how reading and writing from a pipe happens.
Reading and writing to pipes #
Let's now go to the definition of pipe_write, to try and make sense of the perf output shown before.
Here is a simplified explanation of how pipe_write works:
If the pipe is already full, wait for space and restart;
If the buffer currently pointed at by head has space, fill that space first;
While there's free slots, and there are remaining bytes to write, allocate new pages and fill them, updating head.
% sysbench memory --memory-block-size=1G --memory-oper=read --threads=1 run
...
102400.00 MiB transferred (15921.22 MiB/sec)
Given all the fiddliness listed above, a 4x slowdown compared to single-threaded sequential RAM speed is not that surprising.
Tweaking the buffer size or the pipe size to reduce the amount of syscall and synchronization overhead, or tuning other parameters will not get us very far. Luckily, there is a way to get around the slowness of write and of read altogether.
Splicing to the rescue #
This copying of buffers from user memory to the kernel and back is a frequent thorn in the side of people needing to do fast IO. One common solution is to just cut the kernel out of the picture and perform IO operations directly. For example we might interact directly with a network card and bypass the kernel for low-latency networking.
In general when we write to a socket, or a file, or in our case a pipe, we're first writing to a buffer somewhere in the kernel, and then let the kernel do its work. In the case of pipes, the pipe is a series of buffers in the kernel. All this copying is undesirable if we're in the business of performance.
We'll soon see exactly how this works.
Splicing in practice #
Let's replace write with vmsplice. This is the signature for vmsplice:
Here are the results writing with vmsplice, rather than write:
% ./write --write_with_vmsplice | ./read
12.7GiB/s, 256KiB buffer, 40960 iterations (10GiB piped)
This reduces by half the amount of copying we need to do, and already improves our througput more than threefold — to 12.7GiB/s. Changing the read end to use splice, we eliminate all copying, and get another 2.5x speedup:
% ./write --write_with_vmsplice | ./read --read_with_splice
32.8GiB/s, 256KiB buffer, 40960 iterations (10GiB piped)
Fishing for pages #
What next? Let's ask perf:
% perf record -g sh -c './write --write_with_vmsplice | ./read --read_with_splice'
33.4GiB/s, 256KiB buffer, 40960 iterations (10GiB piped)
[ perf record: Woken up 1 times to write data ]
[ perf record: Captured and wrote 0.305 MB perf.data (2413 samples) ]
% perf report --symbol-filter=vmsplice
-   49.59%     0.38%  write    libc-2.33.so       [.] vmsplice
   - 49.46% vmsplice
      - 45.17% entry_SYSCALL_64_after_hwframe
         - do_syscall_64
            - 44.30% __do_sys_vmsplice
               + 17.88% iov_iter_get_pages
               + 16.57% __mutex_lock.constprop.0
                 3.89% add_to_pipe
                 1.17% iov_iter_advance
                 0.82% mutex_unlock
                 0.75% pipe_lock
        2.01% __entry_text_start
        1.45% syscall_return_via_sysret
A whirlwind tour of paging #
The role of struct page #
However, vmsplice accepts virtual memory as input, while struct page refers to physical memory directly.
Therefore we need turn arbitrary chunks of virtual memory into a bunch of struct pages. This is exactly what iov_iter_get_pages does, and where we're spending half of our time:
struct iov_iter is a Linux kernel data structure representing various ways of walking through chunks of memory, including struct iovec. In our case, it will point to a 128KiB buffer. vmsplice will use iov_iter_get_pages to turn the input buffer into a bunch of struct pages, and hold on to them. Now that you know how paging works, you might vaguely imagine how iov_iter_get_pages works as well, but we'll explain it in detail in the next section.
We've rapidly gone through a lot of new concepts, so to recap:
Modern CPUs use virtual memory for their processes;
Memory is organized in regularly-sized pages;
The CPU translates virtual addresses into physical addresses using a page table mapping virtual pages to physical pages;
The kernel adds and removes entries to the page table as necessary;
Pipes are made out of references to physical pages, so vmsplice must convert virtual memory ranges into physical pages, and hold on to them.
The cost of getting pages #
Huge pages #
Busy looping #
We're almost done, I promise! Let's look at perf output once again:
-   46.91%     0.38%  write    libc-2.33.so       [.] vmsplice
   - 46.84% vmsplice
      - 43.15% entry_SYSCALL_64_after_hwframe
         - do_syscall_64
            - 41.80% __do_sys_vmsplice
               + 14.90% wait_for_space
               + 8.27% __wake_up_common_lock
                 4.40% add_to_pipe
               + 4.24% iov_iter_get_pages
               + 3.92% __mutex_lock.constprop.0
                 1.81% iov_iter_advance
               + 0.55% import_iovec
            + 0.76% syscall_exit_to_user_mode
        1.54% syscall_return_via_sysret
        1.49% __entry_text_start

We're now spending a significant amount of time waiting for the pipe to be writeable (wait_for_space), and waking up readers which were waiting for the pipe to have content (__wake_up_common_lock).
To sidestep these synchronization costs, we can ask vmsplice to return if the pipe cannot be written to, and busy loop until it is — and the same when reading with splice:
By busy looping we get another 25% performance increase:
% ./write --write_with_vmsplice --huge_page --busy_loop | ./read --read_with_splice --busy_loop
62.5GiB/s, 256KiB buffer, 40960 iterations (10GiB piped)
Obviously busy looping comes at the cost of fully occupying a CPU core waiting for vmsplice to be ready. But often this compromise is worth it, and in fact it is a common pattern for high-performance server applications: we trade off possibly wasteful CPU utilization for better latency and/or throughput.
In our case, this concludes our optimization journey for our little synthetic benchmark, from 3.5GiB/s to 65GiB/s.
Closing thoughts #
We've systematically improved the performance of our program by looking at the perf output and the Linux source. Pipes and splicing in particular aren't really hot topics when it comes to high-performance programming, but the themes we've touched upon are: zero-copy operations, ring buffers, paging & virtual memory, synchronization overhead.
There are some details and interesting topics I left out, but this blog post was already spiraling out of control and becoming too long:
In the actual code, the buffers are allocated separatedly, to reduce page table contention by placing them in different page table entries (something that the FizzBuzz program also does).

Remember that when a page table entry is taken with get_user_pages, its refcount is increased, and decreased on put_page. If we use two page table entries for the two buffers, rather than one page table entry for both of them, we have less contention when modifying the refcount.

The tests are ran by pinning the ./write and ./read processes to two cores with taskset.

The code in the repo contains many other options I played with, but did not end up talking about since they were irrelevant or not interesting enough.

The repo also contains a synthetic benchmark for get_user_pages_fast, which can be used to measure exactly how much slower it runs with or without huge pages.

Splicing in general is a slightly dubious/dangerous concept, which continues to annoy to kernel developers.
Please let me know if this post was helpful, interesting, or unclear!
Acknowledgements #
Many thanks to Alexandru Scvorţov, Max Staudt, Alex Appetiti, Alex Sayers, Stephen Lavelle, Peter Cawley, and Niklas Hambüchen for reviewing drafts of this post. Max Staudt also helped me understand some subtleties of get_user_pages.